State Rep. Tony McCombie Files First Bill to Ensure Local Tax Dollars Collected by the State Return to the Community Faster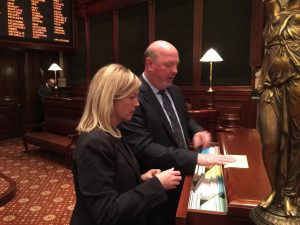 Springfield….
State Representative Tony McCombie (IL-71st) today announced that she has filed her first piece of legislation to be considered by the Illinois House of Representatives. According to Rep. McCombie, "this bill will alleviate a hardship for cash strapped municipalities as they continue to operate during the budget impasse."
McCombie's bill, House Bill 617, designed to help local governments receive tax dollars faster from the state.
The legislation will establish a continuing appropriation for the State and Local Sales Tax Reform Fund, the Motor Fuel Tax Fund, the State Gaming Fund, the Local Government Video Gaming Distributive Fund, and the Statewide 9-1-1 Fund.

"This common sense legislation will allow communities to receive the revenues that rightfully belong to them so that they can continue to operate during budgets stalemate and beyond." McCombie said, "As a former mayor I truly understand how important it is that communities receive their funds in a timely manner so they can best serve their residents and local businesses."

HB 617 is currently in the House Rules Committee and is waiting to be assigned for consideration by a committee. The bill has twenty-two co-sponsors and broad bipartisan support.