Springfield
….This week, legislation introduced by State Representative Tony McCombie (IL-71) enabling construction on existing nuclear power plants passed unanimously out of the House Energy Committee.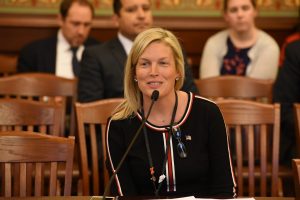 "This bill lifts the moratorium on nuclear plants to empower them to improve their facilities if the construction project is deemed necessary to provide adequate, reliable, and efficient service to its customers," said McCombie. "The bill helps the state's current six nuclear power plants, including the plant in Cordova better serve the public. It also provides protections for customers by ensuring new construction projects are the least-cost means of satisfying the service needs of its customers."
Since 1987, Illinois statute has prohibited the construction of new nuclear plants as well as any necessary improvements on existing plants. HB 3657 enables our nuclear plants to obtain approval from the Illinois Commerce Commission and the Federal Government to ensure any proposed construction improvements are safe, necessary, and affordable for consumers.
HB 3657 passed with a vote of 11-0 out of the House Energy Committee. It is the first bill McCombie will bring to the full House floor for a vote.
Residents of the 71st District can learn more about all legislation sponsored by Rep. McCombie during the spring legislative session at her website at www.repmccombie.com or by calling her legislative office at (815) 632-7384.