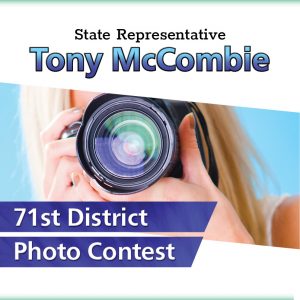 Savanna…State Representative Tony McCombie (IL-71st) wants to bring the 71st District to Springfield with her newly announced Photo Contest. Participants will be asked to submit a photo that best represents the 71st District. The winning photos will be displayed in Rep. McCombie's Springfield and Savanna Offices.
"I want to bring some of the beauty of the 71stDistrict to my Springfield and Savanna offices," said Rep. McCombie. "We live in one of the most beautiful areas in Illinois and I want to share our beauty through your eyes with my colleagues and visitors to stop by our legislative offices."
The contest runs through Monday, April 17th. Participants are asked to submit their photos by email to mccombiephotocontest@gmail.com. Contest rules are as follows:
·
Photos must have been taken within the 71
st
District. (see the map at repmccombie.com)
·
You may submit as many entries before through Monday, April 17th.
·
Include name, homes address, and phone number and where the picture was taken.
Rep. McCombie will choose winning entries and invite the photographers for a photo and unveiling at the Savanna and/or Springfield office. The winning photos will be on display for the term of the 100thGeneral Assembly. Participants seeking more information can call the district office at (815) 632-7384 or visit the website at www.repmccombie.com.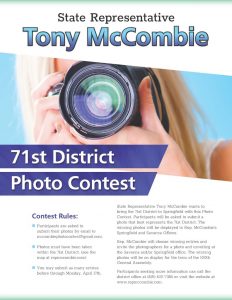 ####