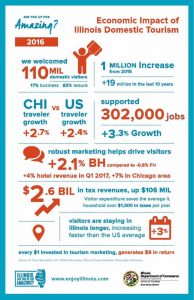 Savanna…Today, State Representative Tony McCombie (IL–71st) released the following statement to recognize National Travel and Tourism Week:
"Across the State of Illinois more than 600,000 people are employed by the tourism and leisure industry. Locally, visitors contribute more than $800 million to the Quad Cities economy, supporting more than 8,000 jobs, and tens of millions of dollars in economic activity in Whiteside, Carroll and Henry Counties. The 71st District has much to offer tourists such as our state parks, the Mississippi and Rock Rivers, and the John Deere and Rock Island Arsenal Museums to mention a few. As a member of the Tourism, Hospitality & Craft Industries Committee I continue to focus on ways to help promote everything that Illinois has to offer to allow the tourism industry to grow and support local economies across the state."
National Travel and Tourism Week started on May 7, and runs through May 13. This year's National Travel and Tourism Week theme recognizes 'Faces of Travel,' saluting the amazing people who work in the tourism industry.