Cordova…
Yesterday, State
Representative Tony McCombie (IL–71
st
) toured the East Moline Correctional Facility and the Quad Cities Nuclear Generating Station in Cordova with legislators from across the state.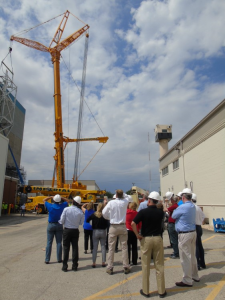 "The Quad Cities Nuclear Generating Station and East Moline Correctional Facility are economic engines, investing in our communities and providing jobs to families across the region," said Rep. McCombie. "The tours were a great opportunity to share with my colleagues just some of what I am proud to represent in Springfield. We were showed the day–to-day operations at East Moline Correctional Facility to get a better understanding of the prison system and saw first-hand the economic impact the Cordova plant has on our communities. I hope to continue to do tours like these for other members of the General Assembly across the state so that they know the importance of these and other facilities to the Quad Cities."
The facility employs 320 people including 220 security staff. It has a maximum capacity of 1452 and houses 1250 inmates – 60 of those inmates have severe mental impairments. Unfortunately, the State's budget crisis has resulted in an overdue bill of over $400,000 (and growing) to the East Moline Water Department.
The Exelon Nuclear Power Plant in Cordova provides power to 1.2 million customers in Illinois and Iowa. Recently, Exelon announced that it will remain open and save 800 jobs. New projects, which broke ground after the Exelon bill became law last year, on the facility are employing an additional 350 people.
McCombie was joined by Minority Leader Jim Durkin (Western Springs), Senator Neil Anderson (Rock Island), Senator Michael Connelly (Naperville), Representative Dave Severin (Benton), Representative Norrine Hammond (Macomb), and Representative Terri Bryant (Murphysboro).