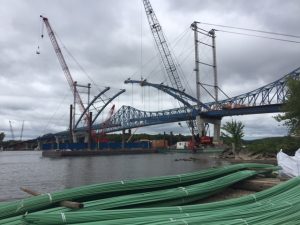 On Friday, August 11, State Representative Tony McCombie (Savanna) and State Senator Neil Anderson toured the progress taking place on the Dale Gardner Veterans Memorial Bridge connecting Savanna, IL and Sabula, IA.
In May, both houses in the General Assembly unanimously adopted Joint Resolution 58 naming the Bridge after Captain Dale Gardner, an astronaut and naval captain, who was a native of Savanna, IL. Dale Gardner was the valedictorian of Savanna Community High School class of 1966, and earned a Bachelor of Science and Engineering from the University of Illinois in 1970 with a 5.0 GPA. After graduation he joined the US Navy where he earned his Naval Flight Wings and rose to the Rank of Captain. In 1978, NASA selected Captain Gardner to be an astronaut where he logged 337 hours in space, and orbited the earth 225 times. Before passing away On February 19, 2014, at the age of 65, he earned numerous awards and medals for his service and accomplishments.
The new Dale Gardner Veterans Memorial Bridge is scheduled to open in 2018 and will cost $80 million. It will replace the current outdated and functionally obsolete US-52/US-64 bridge that opened over 85 years ago.