"CORDOVA, Ill. — Closely following Exelon's security in the area via legislation, the company has started multi-million dollar major projects that will stimulate the greater Quad-Cities economy. An estimated 600 jobs are expected at the plant through various construction projects.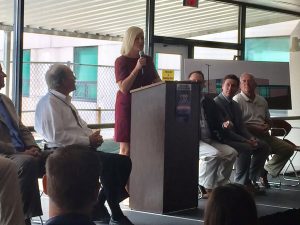 Contractors, Exelon officials and legislators participated in a press conference Thursday at Exelon with one of the projects, the Professional Learning Center, as the backdrop. The learning center is a $7 million project contracted with Burling Builders, Inc.
Illinois State Rep. Tony McCombie (R-Savanna, Illinois) sees real dedication from Exelon to the greater Q-C area. Before the passage of the Future Energy Jobs bill in late 2016, McCombie said she was concerned for the 800-plus Exelon workers and the local community that benefits from its property taxes.
"It was really a scary time for about a year, and people that worked here and supported this (the energy bill)," McCombie said. "Now with this (construction projects), it shows they are staying and reinvesting in the community… (if Exelon were to leave) it would be devastating. I can't even imagine what would have happened if this place closed."