Replaces the 84-year-old US Route 52 Bridge connecting Savanna, IL with Sabula, IA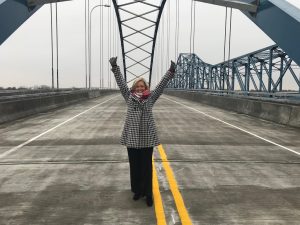 SAVANNA…
Today Rep. McCombie spoke at the ribbon cutting of the Dale Gardner Veterans Memorial Bridge which officially opened for traffic this afternoon.
"This project is much more than just a bridge to most of us. The Savanna/Sabula Bridge is a reminder of our history and our past. For me, the bridge is a reminder of my childhood when I would fight with my brother to give money at the toll booth, crossing it with my nieces and nephews, and of course listening to the amazement of visitors when the snow plows come out in the summer for the shadflies," said Rep. McCombie. "Illinois and Iowa chose to believe in our future and our families and prove their commitment to us by developing a new gateway of opportunities. Today we have come together to celebrate new beginnings. The opening of the Dale Gardner Veterans Memorial Bridge will bring growth to our area through business development and tourism."
The Dale Gardner Veterans Memorial Bridge replaced the outdated and functionally obsolete 20 foot wide half mile long Savanna-Sabula Bridge which opened over 85 years ago. The old bridge will be deconstructed in the coming months.
Rep. McCombie sponsored HJR 58 to name the bridge the "Dale Gardner Veterans Memorial Bridge," in after Savanna native Dale Gardner after his classmates from Savanna High School led the effort to honor him. Dale Gardner was the valedictorian of Savanna Community High School class of 1966. In 1978, NASA selected Captain Gardner to be an astronaut where he logged 337 hours in space, and orbited the earth 225 times. He passed away on February 19, 2014, at the age of 65.