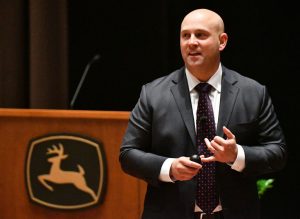 Luke Chandler, Chief Economist for Deere and Co. Speaks
Today my office had the opportunity to listen to the annual economic forecast put on by the Quad Cities Chamber of Commerce. John Chandler, Chief Economist for John Deere, spoke about the local and national economic forecast for the next year. His speech was followed by a question and answer segment moderated by Don Doucette, chancellor of Eastern Iowa Community Colleges. A big topic of discussion was the new infrastructure projects, such as the I-74 bridge, that are being completed in the area. The panelists included:
Bruce Berger, Director of Community Planning from Davenport
Chandler Poole, community and economic development director for Rock Island
Ray Forsythe, Moline planning director
Tim Knanishu, Executive Director of REDEEM from East Moline
Liz Murray Tallman, chief economic development officer for the Quad-Cities Chamber
Decker Ploehn, Bettendorf City Administrator
At the forum, the first Quad-Cities Big Table event was also announced. The Big Table is a community wide event where 10-12 people each will gather around 500 tables in the Quad-Cities on April 20-21 and take part in conversations about how to make the community better.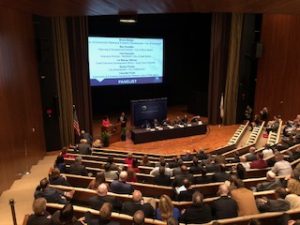 Don Doucette, chancellor of Eastern Iowa Community Colleges leads panel discussion.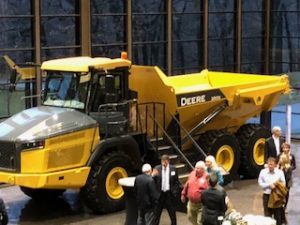 John Deere Dump Truck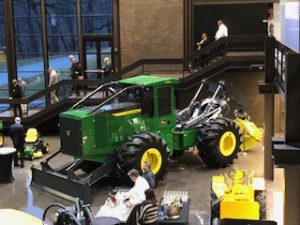 John Deere Tractor