On Thursday, April 12th HB 4586 and HB 4588 were given hearings in the 'Sentencing, Penalties and Criminal Procedure Subcommittee,' but will not make it to the floor     
Springfield, IL – State Representative Tony McCombie (IL-71st) released the following statement in reaction to HB 4586 and HB 4588 receiving votes in the Judicial-Criminal Committee, but not receiving enough votes to pass: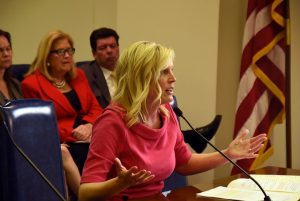 "The Jud-Crim Committee is narrowly focused on reducing penalties for offenders to reverse historical injustices in the criminal justice system and reducing the population in corrections. The blanket stance to decrease penalties and stop penalty enhancements is not the correct way to reform/improve Illinois' criminal justice system.  As legislators, we should all be committed to correcting the institutional injustices that exist in the system, but at the same time we cannot ignore our responsibility to keep dangerous violent criminals from committing more heinous acts," said Rep. McCombie. "Pam Knight and Zachary Phillips received a hearing, but they did not receive any justice. The state again failed the people of Illinois, but I will not be complacent and I will not stop fighting for what is fair and just."      
In a press release today addressing several bills, including HB4586, killed in committee, House Republican Leader Jim Durkin (Western Springs) said, "Our single, greatest duty as legislators is to protect our constituents, and these actions by the House Democrats are appalling, egregious and unacceptable. These bills are responsible, thought out, and will have an immediate impact in providing protections for innocent victims of crime."  
HB 4586, sponsored by Rep. McCombie, adds protections to DCFS and Adult Protective Service employees from assault, the same protections applied to police, fire, and other emergency responders who protect our most vulnerable. This bill was drafted after DCFS worker, Pam Knight was brutally beaten to death in the fall. HB 4586 passed Sub-Committee on a vote of 3-2, but failed in the full committee, on a partisan roll call, by a vote of 5 in favor and 8 opposed.    
HB 4588, 'Zachary's Law' is named in honor of 18-year-old Zachary Phillips who was murdered by a parolee who gained access to his parole host's gun.
HB 4588 will hold parole hosts criminally accountable for breaking an agreement they sign, if a parolee gains access to their parole host's gun and uses it to commit a crime, the host may also be guilty of a crime. HB 4588 failed in Sub-Committee with 2 in favor and 3 opposed.