Rep. McCombie publishes an annual End of Session Newsletter she calls her Capitol Report. Below are the articles which appeared in Rep. McCombie's 2021 Capitol Report summarizing major actions taken in 2021 by the Illinois General Assembly as well as Rep. McCombie's passed bills and commentary on major issues. For a printed copy of Rep. McCombie's Capitol Report, please call her District Office at 815-632-7384 or e-mail your name and address to mccombie@ilhousegop.org.
Pay Raise for Politicians. Tax Hikes. No Help for Unemployed. McCombie votes NO on flawed State Budget.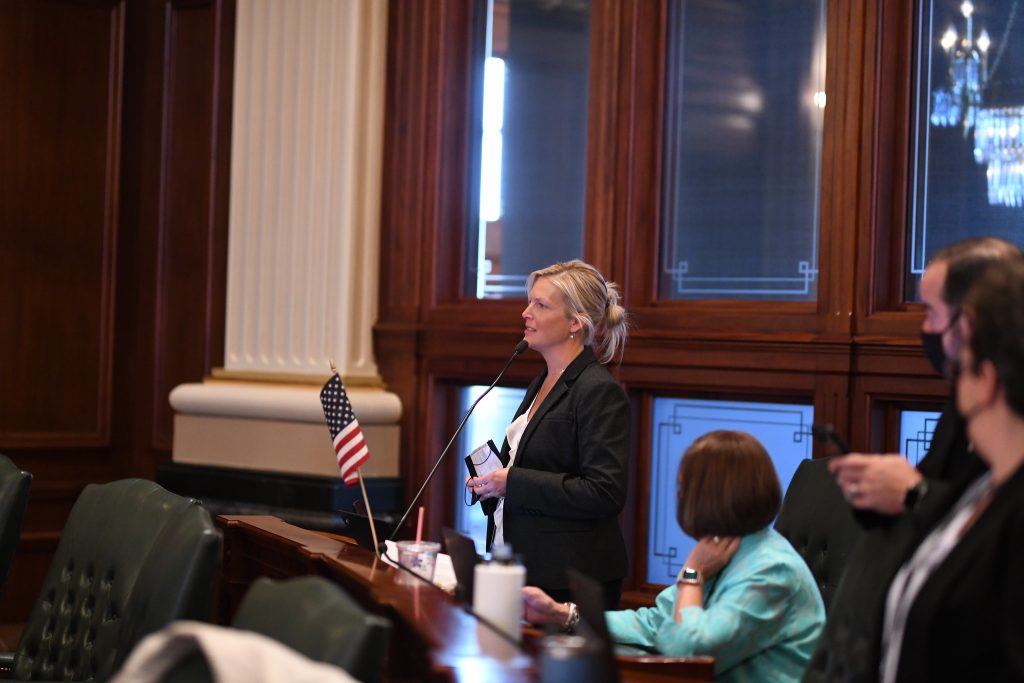 State Representative Tony McCombie voted NO on the Fiscal Year 2022 State Budget approved by Democrats during the waning hours of the spring legislative session on May 31, which included yet another pay raise for politicians.
"Beyond politicians giving themselves a pay raise, this partisan new state budget hikes taxes on Illinois businesses, steers gas tax revenue away from ALL Illinoisans into only Democrat districts and FAILS the families who are depending on the Unemployment Insurance Trust Fund by doing nothing to pay down the $5 Billion in debt in the fund," said McCombie. "When I voted NO to tax and fee hikes on gasoline, boats, vehicle trailers and titles, I warned that this revenue would be used as a slush fund for supermajority democrats."
Rep. McCombie pointed out that even with the infusion of more than $8.1 billion in federal COVID-19 relief dollars to Illinois, no more money was added to the unemployment funds for the people of Illinois who are not working because of the coronavirus executive orders to shut down businesses for more than a year, in many cases.
Advocating Local Control
McCombie pushes for restoring Checks and Balances on Governor's Overreach
Over the past 18 months, Rep. McCombie and other state legislators have been inundated with e-mails and calls from frustrated parents, job creators, concerned community members and local elected officials about round after round of new Executive mandates related to the pandemic, few of which have been debated nor approved by the Legislative Branch of Illinois' State Government, but rather seized as "emergency powers" by Governor JB Pritzker.
While it is important to understand the Illinois General Assembly has not taken legislative action to extend the Governor's Emergency Declaration authority, the courts in Illinois (the third co-equal branch of State Government's checks and balances) HAVE upheld the Governor's authority in lieu of legislative action to the contrary.
Rep. McCombie, along with the House Republican caucus, have pushed for legislative involvement in this decision-making since the beginning of the pandemic and have proposed numerous bills to restore legislative involvement in this decision-making (a list of bills sponsored to curtail Executive Overreach is available on Rep. McCombie's legislative website).
However, Democrats hold supermajority control over the Illinois House, the Illinois Senate and have control of all Statewide Executive Offices, including the Governor. There are 73 Democrats and 45 Republicans in the Illinois House. The ONLY two officials who have the authority to call the Illinois House into special session to take up legislation McCombie has cosponsored on this topic, like HR 416, are Democrat Speaker Chris Welch and Governor JB Pritzker. Both have staked out clear positions to allow the Executive Branch to exercise this authority unchecked by the legislature for the time-being.
Demanding Justice for Pam Knight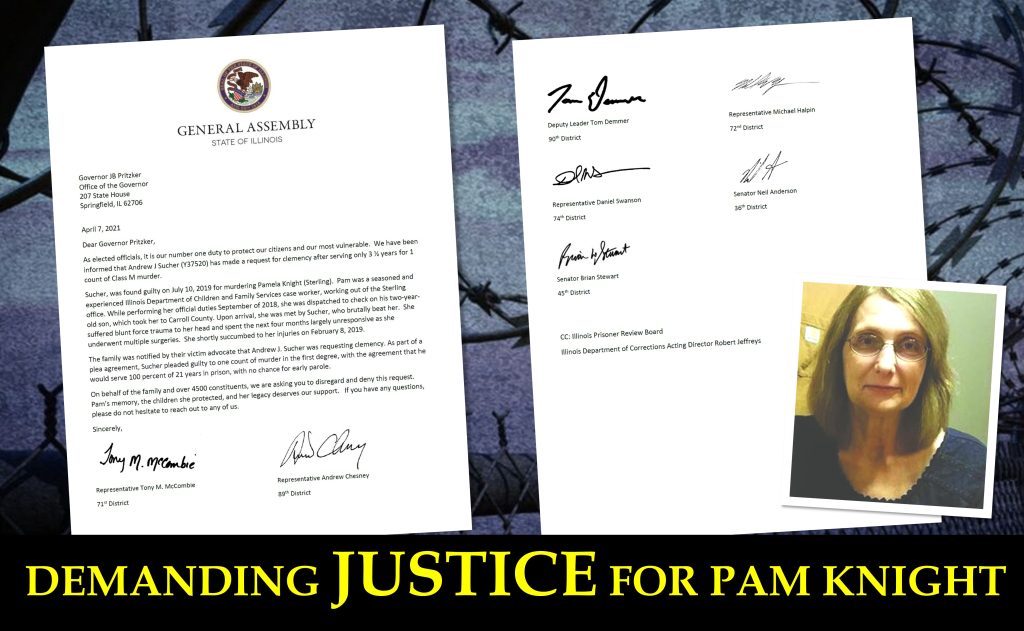 A bipartisan group of local legislators sent a letter to Governor JB Pritzker and the Illinois Prisoner Review Board strongly opposing the clemency request of Andrew Sucher after he has served only 3 ½ years of a 21 year sentence for the brutal murder of Pamela Knight, an experienced Illinois Department of Children and Family Services (DCFS) case worker, was dispatched to check on his two-year old son.
"As elected officials, it is our number one duty to protect our citizens and our most vulnerable," the letter from legislators states "We are asking you to disregard and deny this request. Pam's memory, the children she protected, and her legacy deserves our support," the letter concludes.
McCombie pushes "Parental Control"
From an Op-Ed from Rep. McCombie published in July 2021
You may have saw in the news that the Illinois General Assembly sent legislation (Senate Bill 818) to Governor JB Pritzker mandating Illinois schools to expand sexual education curriculum, applying to students as young as kindergarten.
We can all agree, and have agreed, it is the intent of the Illinois legislature to promote health, wellness, and healthy relationships in our children. However, this expansion of sex education to school children, as young as kindergarten, includes defining self-exploration, types of sexual intercourse and recommends videos in the suggested curriculum that are age restricted on YouTube.
These standards are defined by special interest groups from outside of Illinois and is being implemented across the country where state legislatures allow it. The standards are developed in part by a group called Sex Ed for Social Change and others. These groups have political bias and are pushing this change in educating young school children, by their very name to push for "social change". SIECUS believes that sexually explicit visual, printed, or on-line materials can be valuable educational or personal aids when sensitively used with our children.
This bill undermines the right of moms, dads, and guardians to parent their children. Senate Bill 818 is much more than yet another curriculum mandate. Advocates are pushing social change on our children through the guise of improving public health outcomes. We do not need teachers instructing our students how to use dating sites where they are likely to be victimized by pedophiles and human traffickers.
The goal of sexual education is to help our young people grow into healthier relationships and become healthy adults. Senate Bill 818 misses the mark. It is NOT age appropriate. It IS sexually charged, and in some cases not medically accurate. It takes away local control from our schools and requires diligence on part of parents to research and hoops to jump through to opt out for their children.
Tony McCombie, State Representative, 71st District
Over McCombie's opposition, Senate Bill 818 was signed into law by Governor Pritzker in late August 2021.
Local Control in focus in 'mandates dust up' with Pritzker
On August 4, 2021, Governor JB Pritzker issued Executive Order 2021-18, mandating all public and nonpublic schools in Illinois serving pre-kindergarten through 12th grade students require the indoor use of face coverings, regardless of vaccination status. A press conference held in conjunction with the filing included statements from Governor Pritzker threatening school districts with non-recognition by the Illinois State Board of Education for non-compliance with the mask mandate.
"I support local control over these issues and encourage frustrated parents, teachers, and local school board members and administrators to contact Governor Pritzker's office opposing his latest Executive overreach," said Rep. Tony McCombie. "It is unfair to threaten punishing schools with funding cuts for trying to do what's best for their students."
ISBE has gone on since that time to threaten funding cuts to dozens of schools whose duly elected school boards have voted for local control. Superintendent Ayala has further threatened schools that non-recognition prohibits their participation in Illinois High School Association (IHSA) and Illinois Elementary School Association (IESA) sanctioned sporting events, as well.
School Superintendents from throughout Illinois had previously sent a letter to Governor Pritzker expressing their desire for local control over a "one size fits all" approach in a state as diverse as Illinois.
"Illinois is a diverse state with many different circumstances and settings in these districts," said McCombie. "While I continue to call for legislative involvement in these decisions, the reality is, under Illinois law, ONLY Governor Pritzker or Speaker Welch can call the Illinois House back into session to involve the legislature in these decisions."
McCombie Sponsored Bills become New Laws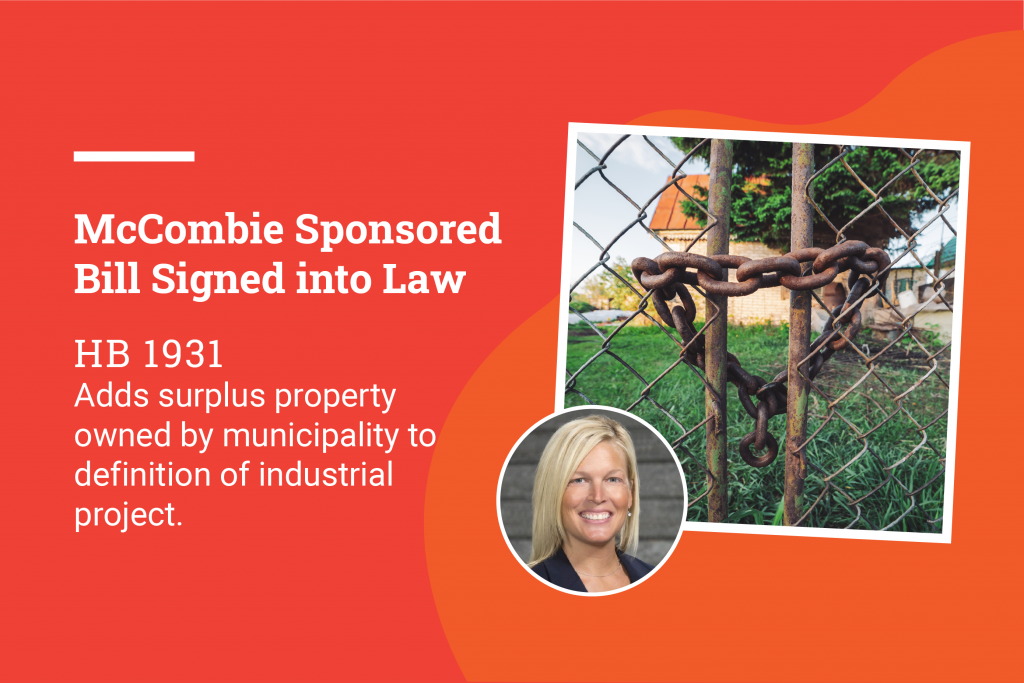 House Bill 1931– Initiative of the City of Rock Falls to permit municipalities to more efficiently manage surplus property to promote growth. Effective immediately.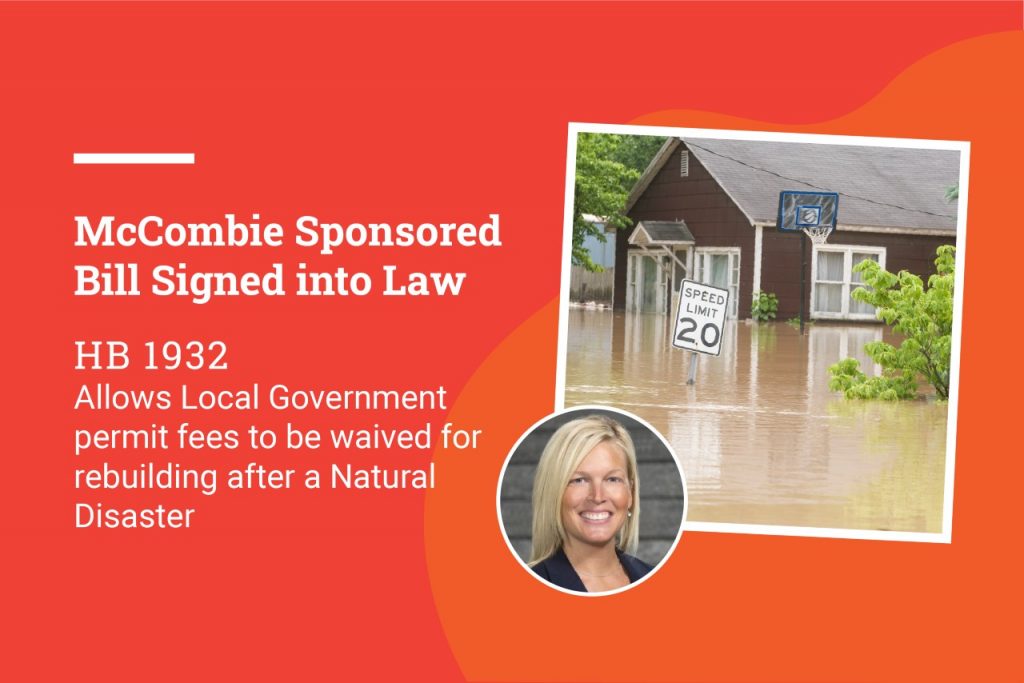 House Bill 1932– Allows county boards, city councils, and township boards to waive building permit costs or inspection costs and fees, following a disaster, when residents are repairing or rebuilding their damaged homes. This could apply to residential construction, commercial construction, or manufactured homes. Fee waivers are permissive under the bill. The bill does not exempt these rebuilds or repairs from inspection, it only permits these local governments to waive the costs of inspections and the permit process.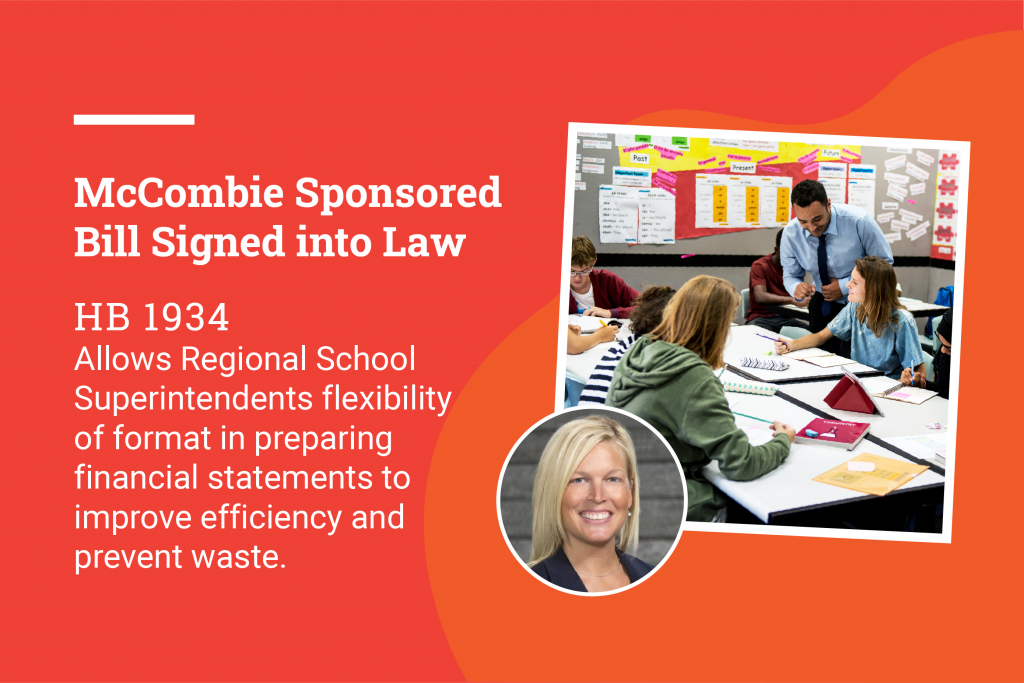 House Bill 1934-Relative to the financial audits made annually by the Auditor General of the financial statements of a regional superintendent of schools or educational service region, provides that the regional office of education or educational service center may utilize a cash basis, modified cash basis, or generally accepted accounting principles (GAAP) basis of accounting in the preparation of the financial statements. Initiative of the Illinois Association of Regional School Superintendents.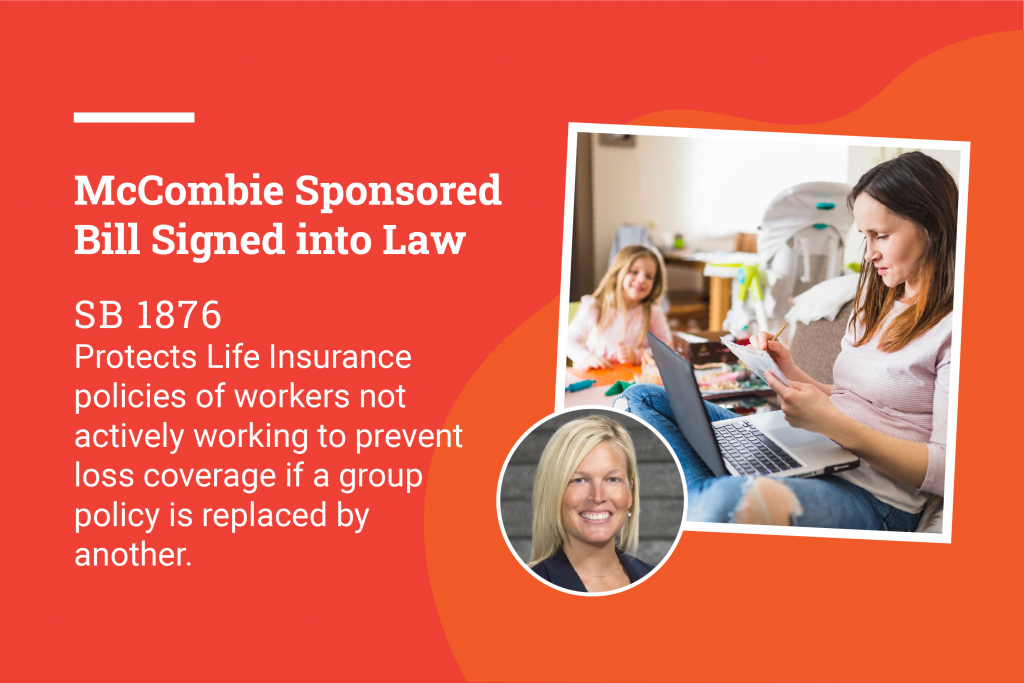 Senate Bill 1876– Requires that a policy of group life insurance that is replacing another group policy contain a provision that prevents loss of coverage for active employees who are not actively working if certain conditions are met.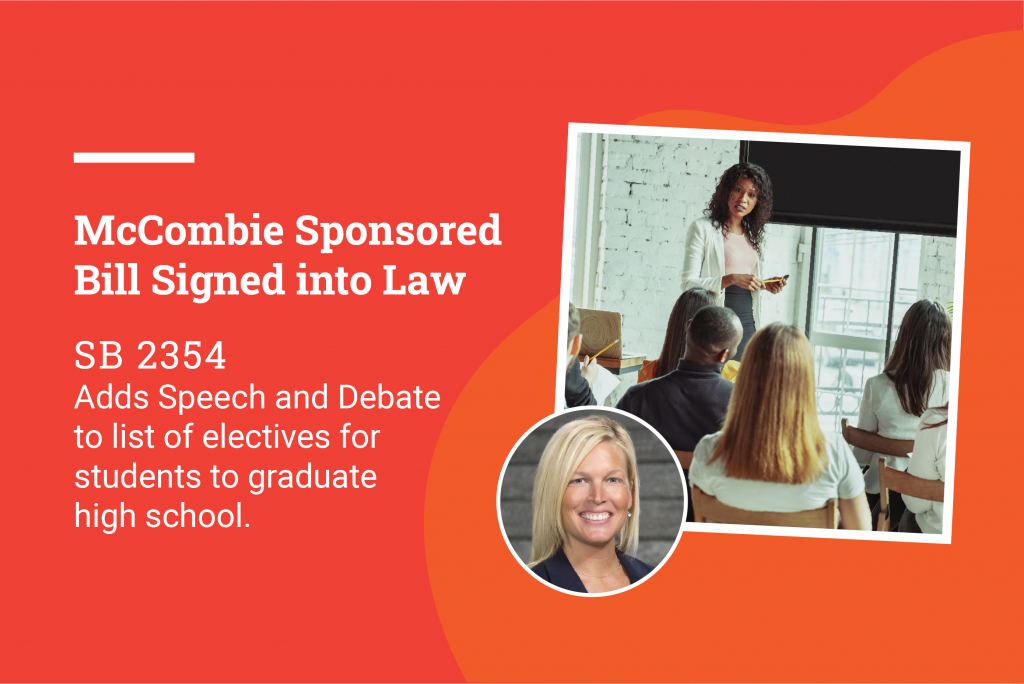 Senate Bill 2354– Adds forensic speech (speech and debate) to the list of electives that a student may choose to satisfy the one year prerequisite that each high school student must complete to graduate.  Provides that a forensic speech course used to satisfy the course requirement in language arts may not be used to satisfy a forensic speech course chosen as an elective course. Illinois Association of School Administrators, Illinois Association of School Boards, and Illinois Education Association backed this bill.
Local Blood Drives Save Estimated 200 Lives
Doubling down on her efforts over the past 18 months to ensure locals help address nationwide blood shortages, Rep. Tony McCombie hosted two additional blood drives beyond her annual drive established prior to the pandemic.
This years' events, held in December and April, collected over 63 blood units. The American Red Cross estimates 200 lives will be saved by the blood collected at these two drives. The events were co-hosted by the City of Savanna at the Savanna Fire Department.
"Thank you to all of our donors and volunteers at these blood drives," said Rep. McCombie. "We are all so grateful for those who respond to the constant need for blood donations, but especially at such a critical time of need with blood drives continuing to be cancelled throughout the country during this global pandemic."
According to the American Red Cross, every 2 seconds someone in the U.S. needs blood and or platelets. Approximately 36,000 units of red blood cells are needed every day in the U.S., while less than 38 percent of the population is eligible to give blood or platelets. A single car accident victim can require as many as 100 units of blood. Blood and platelets cannot be manufactured; they can only come from volunteer donors.
Rep. McCombie's next Blood Drive in Savanna is scheduled for January 3, 2021.
McCombie-backed Telehealth Access Bill becomes Law
McCombie co-sponsored House Bill 3308 was signed into law on July 22 and is aimed at increasing access to telehealth services in communities throughout Illinois. The legislation permanently extends payment parity requirements for mental health and substance abuse disorder services, while authorizing all other telehealth services be covered through 2027.
"The pandemic may have compounded the need for expanded telehealth services, but rural communities stand to benefit for years to come by extending some of the coverages and innovations needed to bring telehealth services to communities throughout Illinois," said McCombie.
With the increase in use of telehealth services throughout the pandemic, there has been a notable reduction in missed appointments, better care plan adherence, and improvement in chronic disease management. Telehealth has also reduced barriers to those seeking treatment for mental illness and substance abuse disorders. Only a handful of other states have enacted telehealth payment parity.