PUSH FOR GREATER ETHICS CONTINUES
I have repeatedly called for ethics reform in the Illinois House of Representatives; I proudly supported initiatives of fellow members and my own to instill greater ethics laws in the legislature—to root out corruption and bad actors in politics. This push continues and will until our Democrat colleagues across the aisle work with us to invoke this necessary change.
Last week, I continued to press for greater ethics laws in the Illinois House. In an interview, I discussed my views on the situation: As the tangled web of corruption has unraveled in federal court, reform efforts in the statehouse are being stalled by Democratic leadership, who are obviously content with the status quo.
I emphasized the need for ethics reform and the urgency that should be behind adopting such reforms in the statehouse. I believe that ethics reform will most likely be a hot topic during the fall veto session, which begins Oct. 24.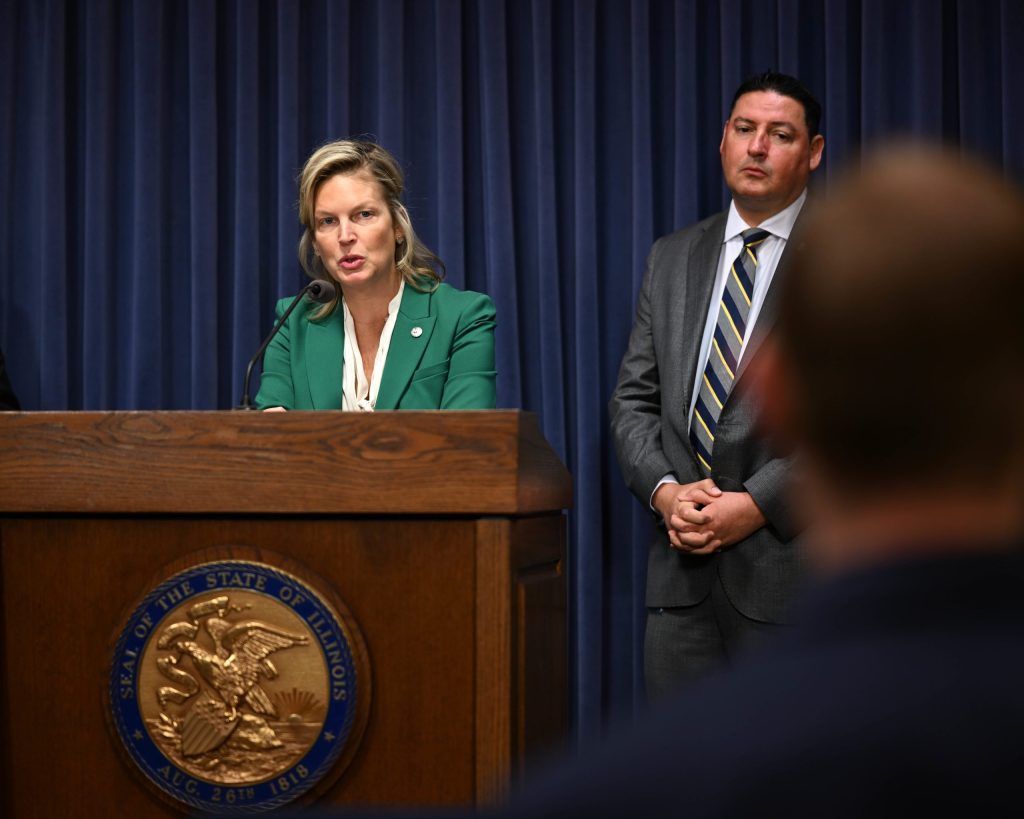 FIRST RESPONDERS
The state has issued countless campaigns to remind residents of Scott's Law, the traffic-move-over law, in effect on all multilane Illinois highways, which requires all drivers to move out of any traffic lane that is adjacent to a first-responder vehicle with its lights flashing if the motor vehicle can safely change lanes. The law was enacted by the Illinois General Assembly as "Scott's Law" in honor of Lt. Scott Gillen (Chicago Fire Department) who was struck and killed by a DUI driver on the Dan Ryan Expressway on December 23, 2000.
Most Illinois drivers obey Scott's Law. Some do not, and on February 15, 2021, a driver was at the wheel of a vehicle that, in an incident on Interstate 55 in Will County southwest of Chicago, struck the squad car of Illinois State Police Trooper Brian Frank, even though the trooper's car had its emergency flashing lights activated. Frank suffered severe head injuries and was airlifted to a hospital for emergency surgery. Medical care saved Trooper Frank's life, but as of 2023 he continues to face severe challenges requiring nursing assistance on a 24/7 basis. The driver was arrested and, after lengthy pretrial proceedings, pleaded guilty this summer. He was sentenced this week to serve 15 months in State prison for violation of the law.
This is another sad reminder to slow down, move over, and drive safely!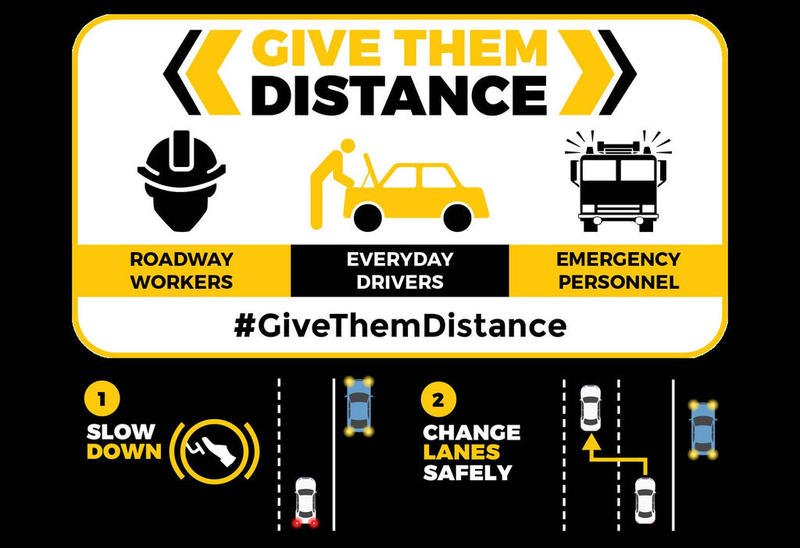 CELEBRATING SUMMER READING
We had a great summer reading program conclude in August and will be celebrating all the participants at a special Ice Cream party next week. The celebration will be on September 16th at Old Mill Park in Savanna from 10am – 1130am. Participants of the "Reading Buzz" program will be honored with a certificate for their summer reading accomplishment as well as fun prizes and of course…Ice Cream!
HIGHER EDUCATION
Forbes "Top 25 Public Colleges" list honors University of Illinois at Urbana-Champaign (UIUC). The ranking uses public data to search out schools that, in the eyes of the Forbes magazine and website, "offer a world-class education for a fraction of the list price at top private colleges." Illinois's flagship public university was ranked as No. 9 among the United States' public-sector institutions of higher education. Other top-25 schools in the Midwest included the University of Michigan (Ann Arbor), the University of Wisconsin (Madison), Purdue University, and Michigan State University in East Lansing. Schools at this rank are sometimes called the "Public Ivies," in reference to the East Coast's Ivy League.
Forbes stated that, to generate their list, they had inserted data sets for each eligible school's return on student family investment, student success, student debt, alumni salary, and graduation rates. A "top 25" school is one where the student body enjoys a high rate of success in obtaining lifelong salaried employment, which in many cases includes additional studies at a graduate school.
Although Forbes noted the substantial cost advantage enjoyed by students at "top 25" public universities and their families, the magazine/website warned that these schools are not inexpensive by any means. At UIUC, the full listed cost of college tuition and college study-related fees, for academic year 2022-2023, was $15,714 for Illinois residents and $33,686 for out-of-state students. This number is exclusive of additional costs for housing, living expenses, and study-related non-fee items such as textbooks and course-requirement online access.
UPCOMING EVENTS
Traveling Office Hours
I am launching additional traveling office hours around the 89th district. This is the fourth round of traveling office hours I have hosted this year to help accommodate constituents across the 89th legislative district, which includes all of Carroll & Jo Daviess counties, as well as parts of Stephenson, Winnebago, Boone, Ogle, and DeKalb counties.
My office is taking every opportunity to be available to residents across the district, and this is the latest round of events we are proud to offer to provide the best constituent services to the community. Reaching every corner of the legislative district remains a priority, and I encourage area residents to stop by one of the following events to ask state-related questions or receive help accessing state agencies: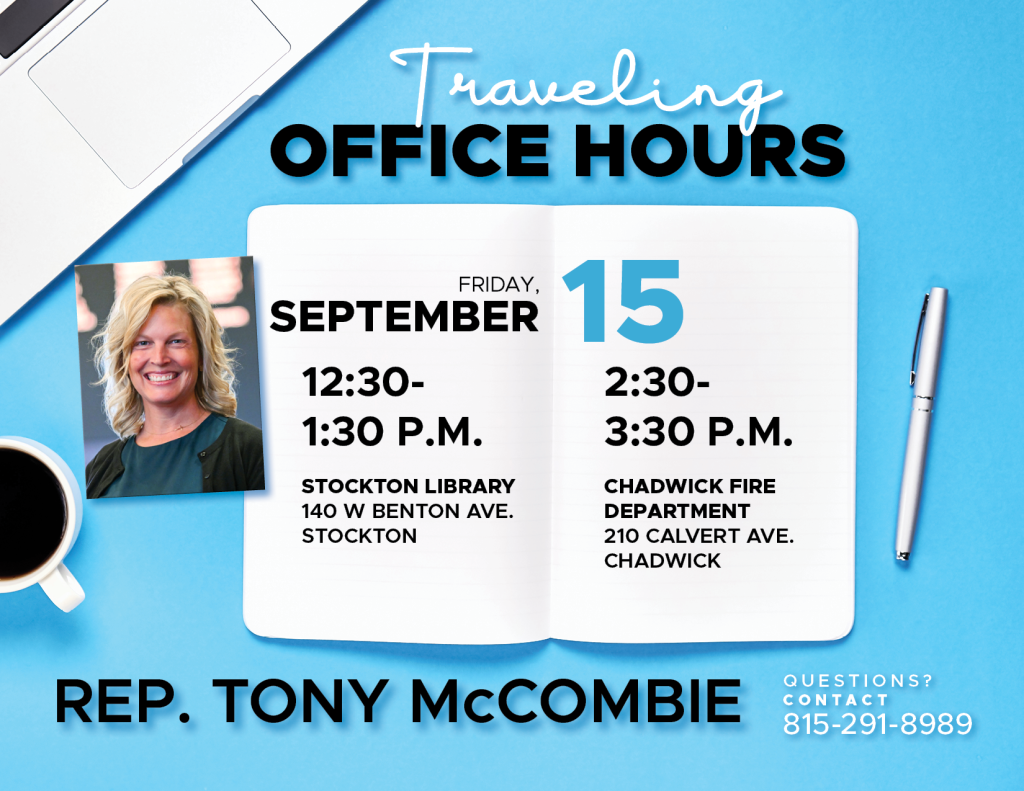 Medicare
Do you have questions or concerns about Medicare? I am hosting a 'Medicare 101 Seminar' to provide you the support – and the answers – you need! There will be two seminars held alongside the Illinois Department on Agings' Senior Health Insurance Program (SHIP) and two of my House Republican Colleagues, State representatives Jeff Keicher and John Cabello. Save the dates for the two events below: