PRINCIPAL FOR THE DAY
I recently served as "Principal for the Day" at Oregon Jr/Sr High School through a program sponsored by the Illinois Principal's Association that works to get state lawmakers into their area schools to meet with administrators, educators, and students.
Visiting Oregon High School was an incredible experience to see firsthand how educators are shaping young students and I especially enjoyed hearing more about their innovative programs, including agricultural technology, which are facilitating viable skills in these students that will pay great dividends to our community and the state of Illinois.
I look forward to continuing to serve as "Principal for the Day" at a few more schools this fall!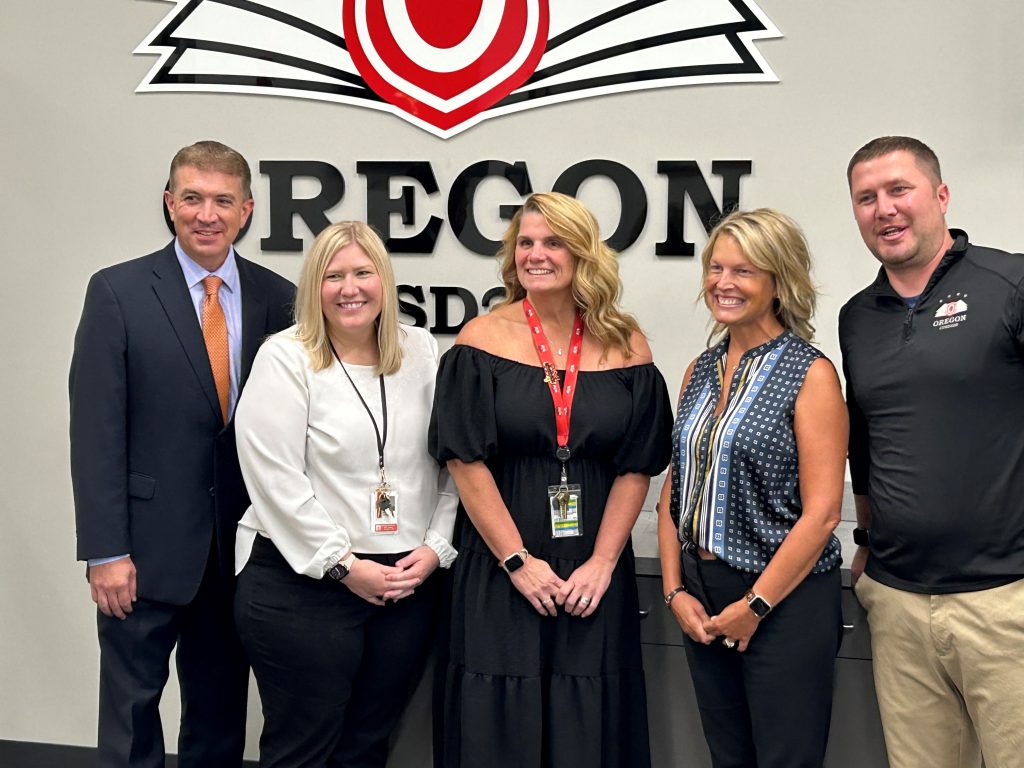 CONSTRUCTION UPDATE
The Illinois Department of Transportation announced today that weather permitting, an inspection of the U.S. 52 Mississippi River bridge (Dale Gardner Veterans Memorial Bridge) in Savanna will begin STARTING TODAY, Monday, Sept. 25.
A daily lane closure with flaggers will be used from 8 a.m. to 5 p.m. Signage will also be utilized to maintain traffic during the project, which is scheduled to be completed by 3 p.m. Friday, Sept. 29. Expect delays, allow extra time for trips through this area, and use alternate routes when able.
CASH BAIL ENDS IN ILLINOIS
The biggest news in our state this week dealt with a change to our criminal justice system. The end of the cash bail system in Illinois was effective last week, which means that Illinois courts are no longer empowered to hold a hearing to require that a criminal defendant post cash bail as a condition of pretrial release. This is a big change for law enforcement, our courts, and public safety matters across our state.
The new law purports to give the courts an alternative pathway to impose pretrial detention on some criminal defendants. However, the pathway to legal pretrial detention for courts and law enforcement professionals will be a narrow one. Prosecutors seeking legal pretrial detention of a dangerous offender will have to take on the burden of submitting a series of findings of fact to the court, and only a widespread array of patterned facts will justify the court imposing pretrial detention on any individual defendant.
I did not vote in favor of this bill when it came forward in the legislature, and I will continue to work with law enforcement leaders to understand the impacts of this change on our community and overall state.
When this change in the law became effective, I released the following statement:
"The end of cash bail means the legal deck is stacked against the victim and community in favor of the criminal. This law makes it more difficult for police officers and prosecutors to keep our communities safe by ensuring offenders in most cases can walk free shortly after committing a heinous offense. Ending cash bail has produced harmful results in other cities and states, and we have no reason to believe Illinois will be any different. We can only hope that innocent victims' lives are not the ultimate price we have to pay."
Read more about my thoughts on cash bail here.
GRANDPARENT'S DAY CELEBRATED AT LONG-TERM CARE FACILITIES
Earlier this month I helped local senior citizens celebrate Grandparent's Day by delivering special cards to residents in long-term care facilities. I had some great help from residents across our district who contributed hundreds of handmade cards that I delivered on Grandparent's Day to help lift the spirits of senior residents in Northwest Illinois.
I want to thank everyone who made a handmade card—we had a great number to deliver and it shows the power of our community coming together to let a resident living in a long-term care facility know they are loved and appreciated.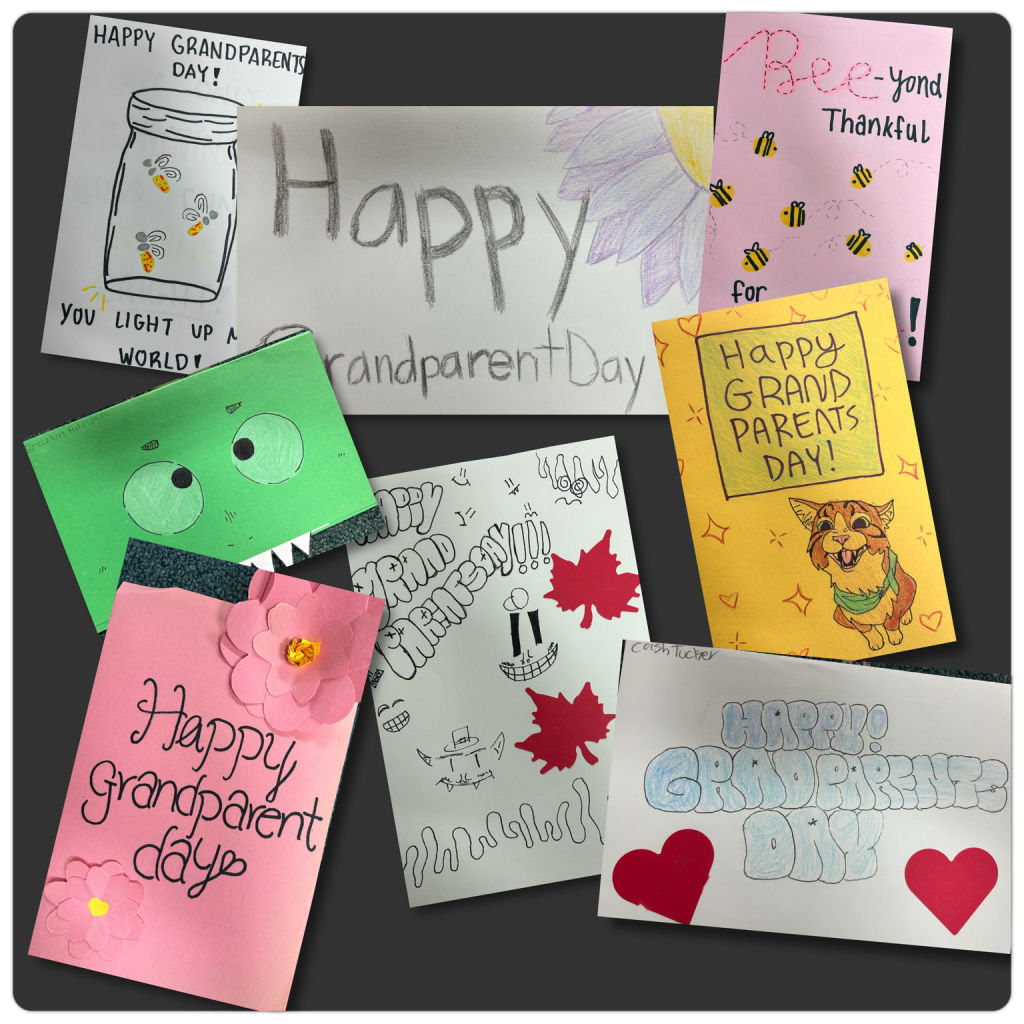 UPCOMING EVENTS
Free Paper Shredding Event
I will be hosting an upcoming paper shredding event on October 7th with State Representative John Cabello and the Stephenson County Sheriff's Department.
This is a great opportunity for local residents to destroy sensitive documents to help prevent identity theft and fraud. Shredding documents to ensure personal information and data are destroyed is the best way to protect your information. Since we will have one shred truck available, please limit your materials to two bags per person. For truck capacity reasons, this will be first come, first serve and the event will be capped once truck capacity is reached.
We hope to see you there: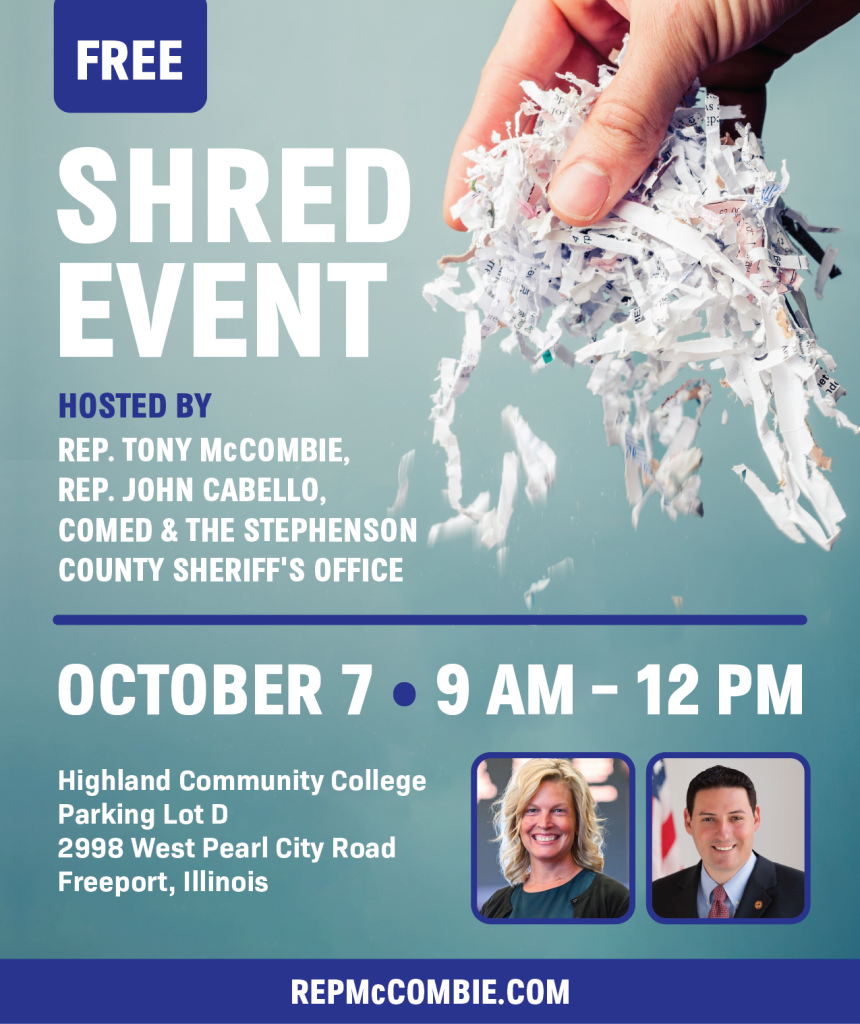 Free Medicare Seminars
Do you have questions or concerns about Medicare? I am hosting a 'Medicare 101 Seminar' to provide you the support – and the answers – you need! There will be two seminars held alongside the Illinois Department on Agings' Senior Health Insurance Program (SHIP) and two of my House Republican Colleagues, State Representatives Jeff Keicher and John Cabello. Save the dates for the two events below: